Minibar Solutions & Ventilation
Minibar Solutions & Ventilation
Minibar Solutions & Ventilation
Click here for full range of Dometic Minibars & Mini Fridges
CHOOSE FROM THREE COOLING TECHNOLOGIES - WHAT TO CHOOSE?
The new HiPro minibar range gives you a choice of three different cooling technologies: noiseless absorption cooling or noiseless thermoelectric cooling for all HiPro Alpha and HiPro Evolution models – plus, high-performance compressor technology as a third option for the HiPro Alpha 40 and 60-l-class.
Compressor technology is undoubtedly the most efficient. In fact, some models are in energy class 'C or D'. On the other hand, this technology creates a slight noise in the moments of activation. Dometic addresses the problem by providing the option to activate the silent operation mode, which will keep the refrigerator inactive for 12 hours or until the internal temperature of 15°C is reached. The HiPro models with absorption technology have excellent performance and can refrigerate in the 'SN' climate class (from +10°C to +32°C). Compared to the thermoelectric, however, they consume more and are a few kilos heavier. Thermoelectric refrigerators work in climate class 'N' (from +16°C to +32°C) and are cheaper. The choice depends on the type of environment and the use to be made of it. Both absorption refrigerators and thermoelectric refrigerators are completely silent technologies, designed to be positioned even next to the bed, without disturbing the sleep of guests.
Whichever you choose, a Dometic minibar will make a great addition to any guest rooms, offices, stores, university halls of residence, accommodations and catering businesses etc.
FAQs : Minibar Ventilation
Minibar Ventilation
To ensure optimum cooling performance with minimum energy consumption, several basis principles need to be followed when installing an absorption minibar. The heat which the cooling unit extracts from the refrigerator interior is emitted at the back of the minibar.
There must be sufficient ventilation here to prevent build-up of heat. The free ventilation space for incoming and outgoing air should be at least 200cm2. The distance from the rear of the minibar to the rear wall of the furniture must be at least 2cm.
When installing the minibar, ensure that it is standing a stable and horizontal surface, and not directly near a heat source.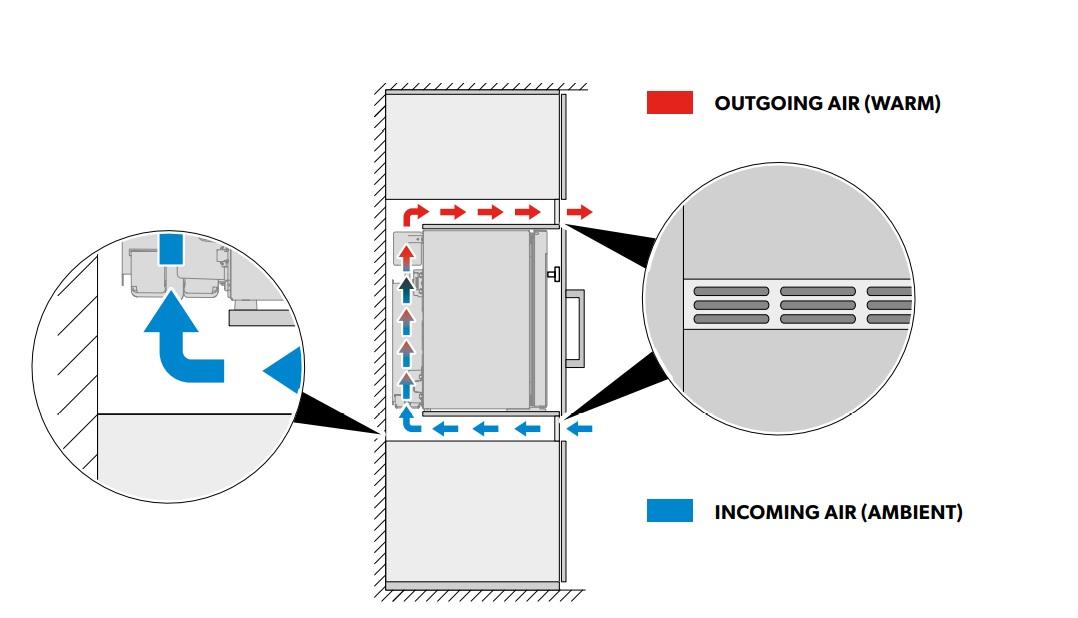 THINGS TO NOTE WHEN INSTALLING A BUILT-IN MINIBAR
The minibar must be placed on a surface that is level in both directions
There should be a 2cm clearance to the wall
Ventilation must be provided as shown in the drawings below
The entire cooling unit should protrude into the ventilation duct as shown
Air passing through the duct must NOT be warmed up by any source of heat
Ventilation grills, if used, must have free opening of at least 200cm2 incoming and outgoing air